Wooooooo Furiends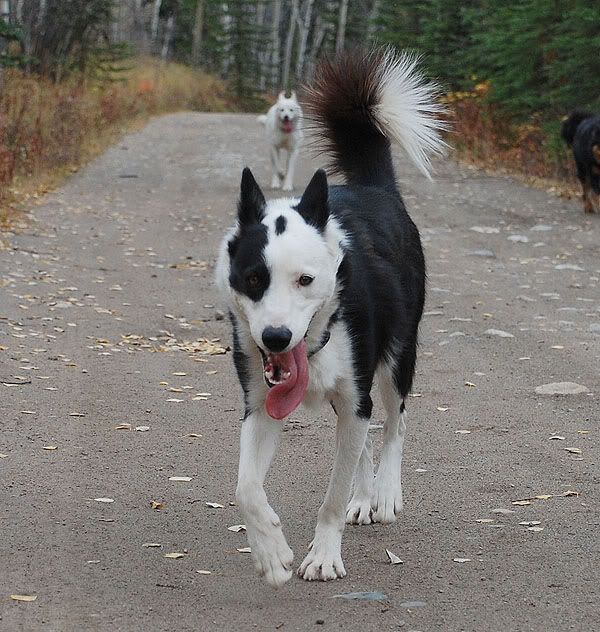 Tonight I went for walkies with my Mom and a few of my furiends.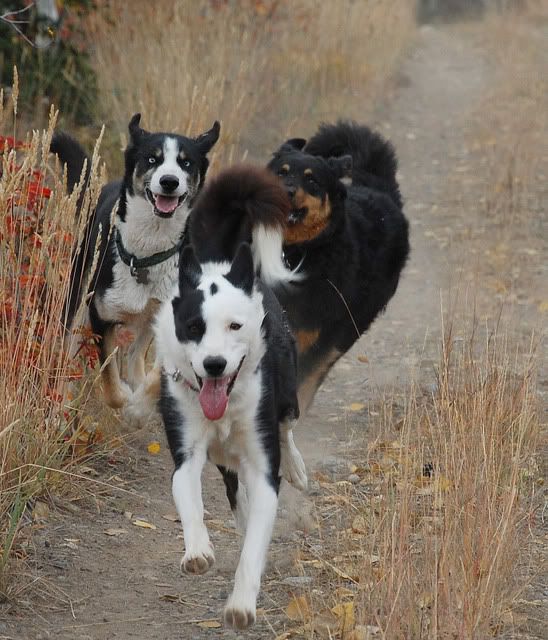 Unlike some of the other dogs here, I am allowed off leash. Lots of huskies just run away if they get loose. My border collie side keeps me a little closer to my humans. Although, Mom does see alot of my tail when we got for off-leash walkies!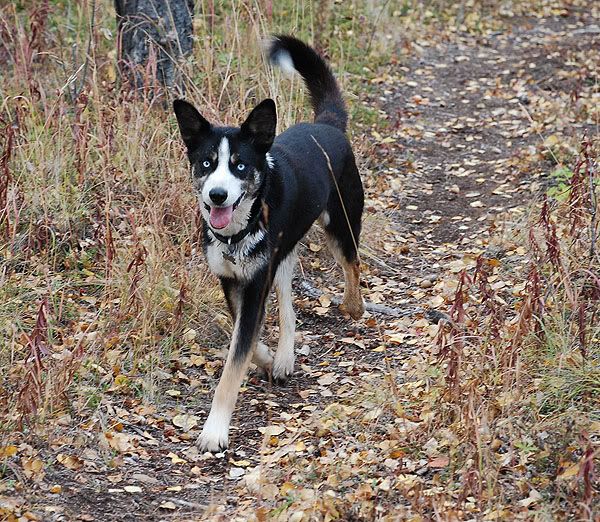 My pen-mates, Chum and Pacer, came along tonight. We stay in a pen together when Mom isn't home to supervise us. Most of us doggers get along, but 25 dogs unsupervised and loose together, well, that's a bad idea! Chum lives with me because he's a bit of a troublemaker. He doesn't mean to start trouble, he just does! He's very talky and not all the dogs understand what he's saying! I get him though!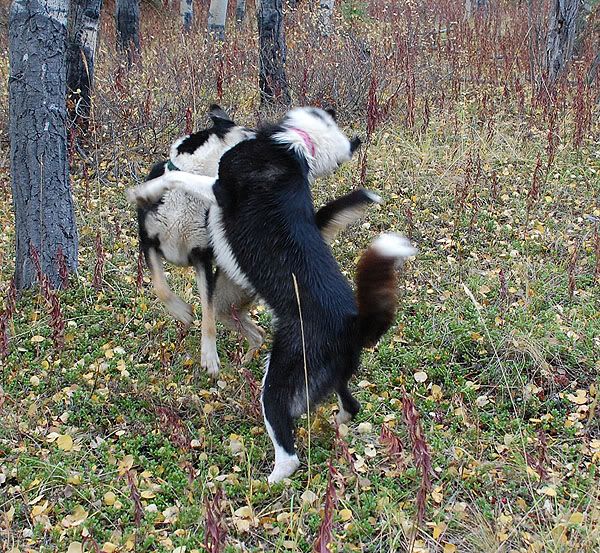 We like to wrassle! Don't worry, we aren't fighting. We just like to play rough!!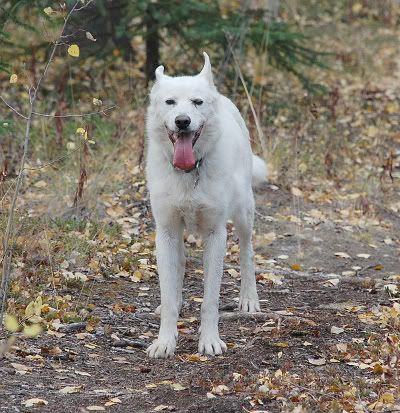 My friend, Pacer came for a walk too. Before me Pacer didn't have any friends. The other dogs beat him up a few times...once so bad that Dr. Candace wasn't sure Pacer would live! But he did and now he has me to play with and he's much happier!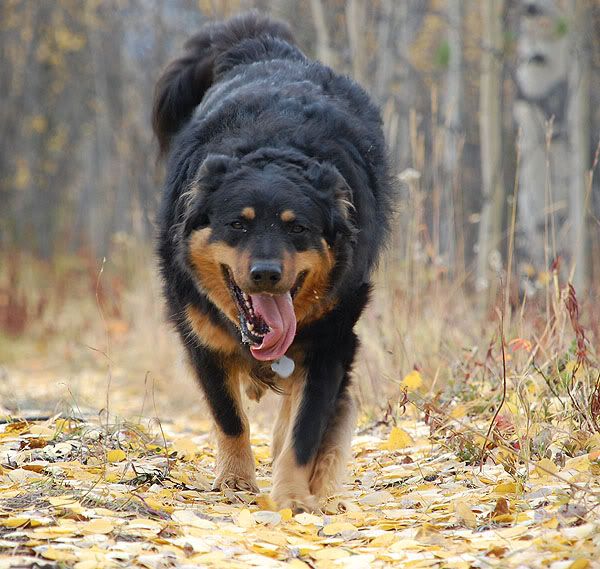 Oh, yeah, Daisy came too. I guess I should explain about Daisy. Daisy is NOT our dog; she doesn't actually live here, but don't tell her that. She thinks she does live here. She comes over every day! We almost never go for a walk without Daisy tagging along. She actually belongs to someone who lives in our area. He's not mean to her, but he doesn't seem to pay very much attention to her! So she comes here to play and stuff. My Mom loves her like she really did live here!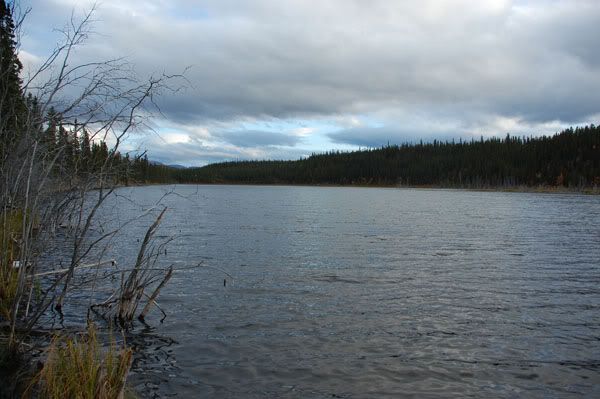 We didn't go anywhere too exciting tonight. Just to my lake. Oh, Mom says it's not really m
y lake, but I think it is! I go there alot!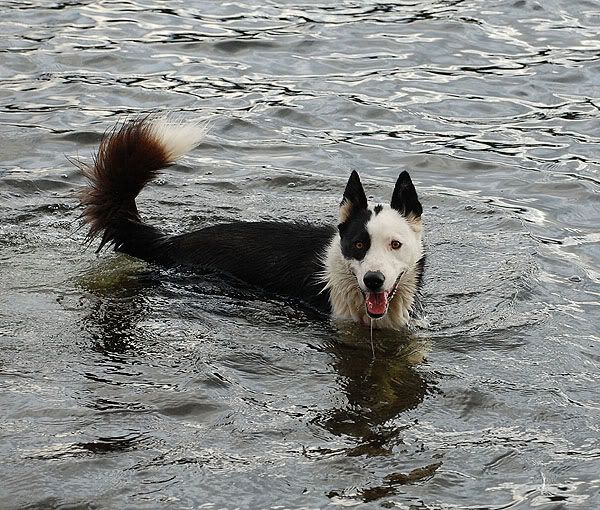 I like to swim. The water is getting a bit cold now though!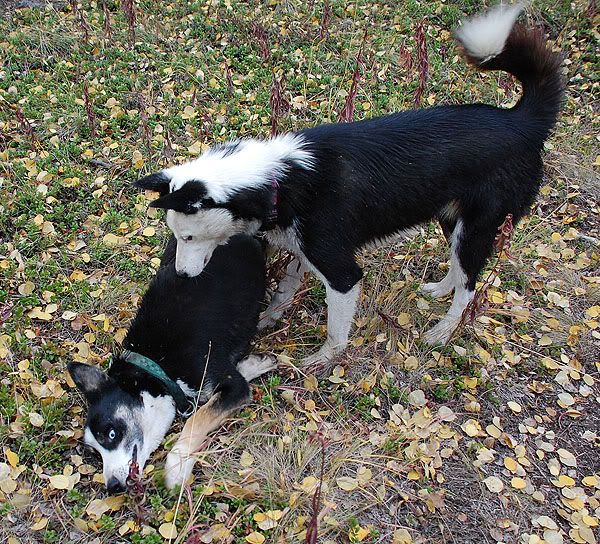 We did find some stinky stuff to roll in on our way home. Mom was thrilled!
Mom doesn't have to work for a couple days. Maybe we will do something exciting on the weekend!