Wooo furiends
We finally got to go running today. Mom was a bit nervous so we only took a baby team, just four dogs, but it was still fun!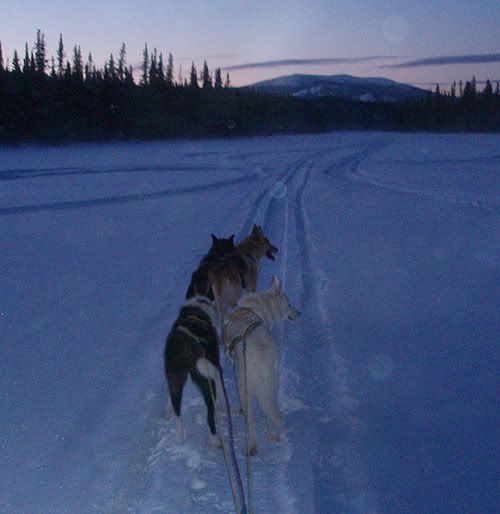 That's Reggae and Anvik up front and then me and Pacer! Reggae did really good! He didn't know our trail at all so Mom had to give him a couple commands twice, but he got us all by 3 loose dogs with no troubles. Mom says she can teach the direction commands easy peasy, but that "on-by" command is hard to teach! I think it's gonna be hard to learn too; I would have liked to stop and play with those dogs! I gotta get my working brain back on!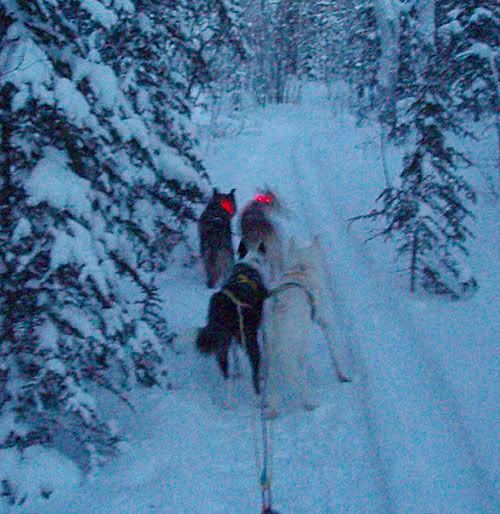 We went in the late afternoon and it gets dark early here! On the way home, Mom had to put our flashy collars on. They have little red lights in them. They don't really help us to see where we are going, but they help other trail users see that we are coming! This is 'specially important if a snowmachine is coming! We don't want to crash with one of them!
Mom says we will go running again on Monday. She's not nervous anymore so we will take six dogs and go a bit farther!
WOooo
Tehya the BabyDog SledDog!